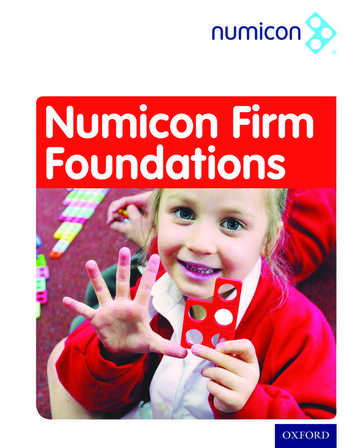 This is a resource written with a Learning Through Play emphasis and links early childhood with entry to school.
Building a secure future in mathematics for every child!
The Numicon Firm Foundations Teaching Pack provides a comprehensive and varied programme of mathematics activities for children aged 3-5, with planning and assessment support, photocopy masters, expert guidance on the key mathematical ideas children will meet, and advice on how to put the Numicon approach into practice in your setting.
Numicon is research-based and proven to have a significant and lasting impact on results.
Many preschools use Firm Foundations with their 4-years olds.  
New entrant teachers use Firm Foundations with their children in the first year, espcially if they are coming to school with low language and poor early learning experiences.
The Firm Foundations Teaching Pack provides:
A wide range of practical ideas for helping children to develop deep understanding of numbers and number relationships, shape, space and measurement.

Creative suggestions for extending the learning across a variety of environments where children can explore the key concepts.

Support for developing oral language skills

Effective questions to guide children in their making connections and conversations

Planning and assessment support

A detailed guide to the key mathematical ideas children will meet

Guidance on how best to implement Numicon in your setting.

Photocopy Masters to support the activities
Activities have been extensively trialled with teachers and children; and derive from real classroom experience.
A sample pack be downloaded here
More information to download here as a PDF/Powerpoint
The Starter Apparatus Pack is sold separately as Group or 1:1 options 
Other products that are used alongside Firm Foundations are:
Numicon at the Seaside  Large Foam Shapes .  Pan Balance   Interactive Whiteboard software
To see how Numicon fits in with National Standards and the New Zealand Curriculum click here
The Firm Foundations Apparatus Kit accompanies the Teaching Pack and is sold separately as a 1:1 or group option.