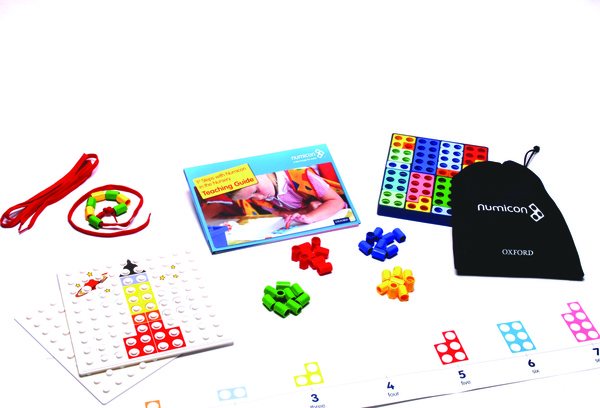 All Early Learning Centres- Preschool, Day Care, Kindergarten, Parent Centre, Reception classes and New Entrants teachers running a Discovery Time will love this exciting new kit!
Designed specifically for preschool settings, 1st Steps with Numicon in the Nursery kit gives children a sound start to their maths understanding and boosts practitioners' maths subject knowledge.
In addition to the plastic resources, the kit includes a colourful and illustrated teaching guide that explains the key mathematical ideas children will meet at this vital stage.
There are many ideas for innovative and playful maths activities both inside and outside play in sand, water, with construction and role-play; as well as ideas for maths at snack time, on the carpet, at 'messy' play and on the table top.
A key and original feature is the focus on maths conversation with ideas to encourage mathematical development throughout the centre.
Please see more information. Click here
Each Kit contains:
| | |
| --- | --- |
| Numicon Pegs | 80 |
| Teaching Guide | 1 |
| Box of Numicon Shapes | 115 |
| Feely Bag | 1 |
| Threading Lace | 2 |
| Baseboard | 2 |
| Picture Baseboard Overlays | 2 |
| Numicon Display Number Line | 1 |
Please note that this box of shapes has a different composition to the shapes box in FF and other kits. In this box, there are less 'ten' shapes and more of the 'two's, three's and fours'.
You will also want to buy the Numicon at the Seaside Big Book.
Families at your centre can participate with you and buy the 1st Steps with Numicon at Home and Numicon at the Seaside at Home- a small book and CD set. Great ideas for birthdays!
View your shopping basket or browse other items.
Other products you might be interested in