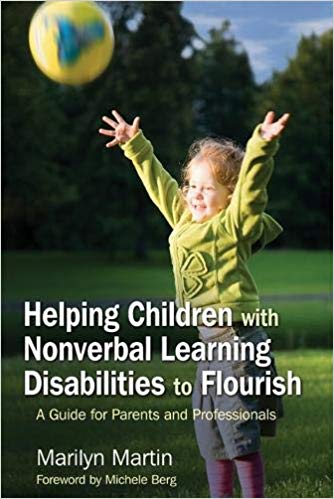 Author Marilyn Martin's daughter Sara was diagnosed with Nonverbal Learning Disability (NLD). Marilyn offers a comprehensive developmental profile of children with NLD and explores the controversies surrounding the condition so parents and professionals can identify learners with NLD and ensure they receive early intervention. Offering practical advice on NLD at home and at school, the book describes step by step interventions for improving a range of skills from penmanship to social acumen.'

- Autism Us

'Marilyn Martin's book Helping Children with Nonverbal Learning Disorder to Flourish is an exciting and essential new addition to the literature. Martin shines in her ability to match interventions to a broad range of problems and examples abound in every chapter. Clear, concise, and detailed explanations are given so that the interventions can be applied skillfully. Each intervention is presented in a terrifically useful and usable format that includes the problem, strengths available, proposed solution, how the solution can be generalized, the goal of the intervention, and a very up-to-date and helpful listing of relevant resources.'

- from the Foreword by Michele Berg, Director, Center for Learning Disorders, Family Service and Guidance

'Imagine getting lost in your own home, forgetting where the bathroom is at work, or being unable to operate a simple door knob. These are just some of the myriad challenges faced by individuals with a Nonverbal Learning Disability, or NLD. In Helping Children With Non-Verbal Learning Disabilities to Flourish, Marilyn Martin gives an overview of NLD and strategies for teaching individuals with this disability. Using examples of her struggles to help her daughter, who has NLD, as well as current research, she has written a book helpful for both parents and professionals. In addition to her experiences with her daughter, Martin is a Learning Specialist with more than fifteen years of experience working with students who have dyslexia, NLD, and other learning disorders. This book is a good introduction to NLD and interventions for treating it. As it gains recognition as a distinct learning disorder, interventions and informative books, like this one, will open doors, literally and figuratively, for families and individuals touched by NLD.'
ISBN 9781843108580
View your shopping basket or browse other items.
Other products you might be interested in