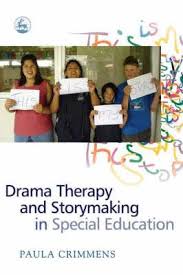 Many aspects of drama therapy make it an ideal technique to use with students with special learning needs. This practical resource book for professionals covers the broad spectrum of students attending special needs schools, including those with attention deficit disorder, autism and Asperger syndrome, and students with multiple disabilities.

Paula Crimmens places therapeutic storymaking within the context of drama therapy and offers practical advice on how to structure and set up sessions to be compatible with special needs learning environments. She shows how story sessions can address issues of self-esteem and self-mastery, and how their use in groups is invaluable for building social and communication skills. The book includes traditional stories from around the world as session material, and includes guidance on how to devise stories relevant to older students, as well as a review of recent research into the effectiveness of drama therapy in engaging and retaining the attention of students with an intellectual disability.

ISBN 9781843102915
View your shopping basket or browse other items.
Other products you might be interested in