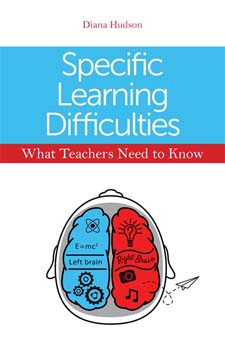 This book clearly explains what Specific Learning Difficulties (SpLD) are, and describes the symptoms of conditions most commonly encountered in the mainstream classroom: dyslexia, dyspraxia, dyscalculia, dysgraphia, Autism Spectrum Disorder, ADHD, and OCD. The author provides an overview of the strengths and weaknesses commonly associated with each of these conditions, as well as practical suggestions for modifying teaching materials and methods to make learning enjoyable, effective and accessible for students. Throughout the book, she emphasises the importance of the home-school relationship, and gives essential practical tips for communicating the student's needs to others within the school and dealing with the tricky issue of disclosure.

This straight-talking and accessible guide is ideal for teachers, teaching assistants, and those in school management who want to know more about supporting students with Specific Learning Difficulties.
ISBN - 9781849055901
Diana Hudson is a tutor and mentor to students with Specific Learning Difficulties (SpLD), as well as a subject classroom teacher (biology) and learning support teacher and SENCO. She has a diagnosis of dyslexia, and is a parent to four children, three of whom have been diagnosed with SpLD. Diana lives in Buckinghamshire, UK.
Acknowledgements.
Introduction.
1. Brains that work a little differently: Introducing Specific Learning Difficulties.
2. Dyslexia.
3. Dyscalculia.
4. Dysgraphia.
5. Dyspraxia.
6. Attention Deficit Hyperactivity Disorder (ADHD).
7. Autism Spectrum Disorder (ASD) and Asperger's Syndrome.
8. Obsessive Compulsive Disorder (OCD).
9. Organisational skills.
10. Exams and revision.
11. A final word.
Appendix: Summary of common areas of difficulty. Glossary. Further reading. References. Index.