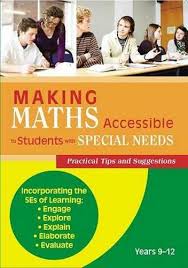 Use the 5Es of learning – engage, explore, explain, elaborate and evaluate – to make maths
accessible to students with special needs in years nine to twelve. The 5E instructional model
is a research based lesson cycle that has proven to increase student achievement and
enable teachers to implement high-quality, effective instruction for mathematics.
This revised Australian resource is full of practical strategies for teachers to use as they
strive to make mathematics understandable to students with a variety of special needs.
Contemplate some of the barriers to learning that various disabilities create, and learn to
work around these in order to help your students reach their full potential. Discover how to
step away from traditional textbook lessons by creating and adapting lessons for high quality
instruction. ISBN 9781742395029
View your shopping basket or browse other items.
Other products you might be interested in