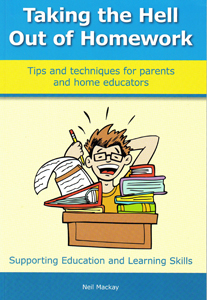 Tips and techniques for parents and home educators.

Homework can often be a source of family strife and argument, particularly for students who struggle academically. All too often, homework is seen as having to do more school work at home and an unwelcome
intrusion into private time when students would rather be listening to their favourite music; watching the TV or a DVD, or chatting online with their friends.

Taking the Hell out of Homework is a rich source of ideas and strategies to help students complete homework more easily and with less stress. it is also a book for parents and carers who are desperate to help their children with homework but who are not sure how to do it.

Simply strategies and tricks of the trade are presented which are easy to use and effective for 6 year-olds to 16+. The techniques have been used in special 'Parent and Child' workshops throughout the UK and in New Zealand, Hong Kong and Singapore. Parents that have taken part in the workshops know that these techniques work - now you can learn them to.
You can download and sample here