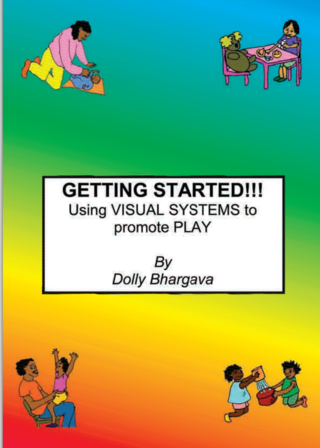 Getting Started with communication to promote PLAY is a book full of ideas, suggestions, activities to promote good and meaningful play for children with special needs. A must-have for all early childhood and Year 0 teachers.
This booklet and DVD were developed by Dolly Bhargava, Disability Specialist
Speech Pathologist. She works with children and adults with intellectual and/or
multiple disabilities in a variety of settings. Dolly has also completed a Masters in
Special Education (Sensory Disability) and is currently doing her Masters in
Philosophy (Speech Pathology). She provides consultancy and training services
on a range of communication, behaviour management, literacy and vocational
related issues nationally and internationally. She developed this booklet and DVD
in collaboration with the teaching staff at School for Parents, parents of children
attending the Early Intervention Program at Carson Street School, Carolyn
McMurtrie from Aussie Notes (graphic artist) and Peter Wright from All Round
Vision (DVD production)
'GETTING STARTED!!! Using Visual Systems to Promote Play' by Dolly Bhargava. This is the second part in the Getting Started Series. This booklet was produced with funding received by School for Parents from the Non Government Centre Support for Non School Organisations of Western Australia.
This booklet was developed by Dolly Bhargava, Disability Specialist Speech Pathologist in conjunction with the students and staff at Carson Street School. This practical resource booklet has been written for parents and discusses a range of visual systems and strategies that can be used at home to develop your child's play skills. Accompanying the booklet is a DVD which demonstrates the use of the discussed strategies with children with disabilities. This resource is both informative and user-friendly and its organisation allows you to 'dip' in and out of sections according to your needs. Although this resource is for parents it will also be useful for early childhood educators, child care staff, teachers, therapists etc