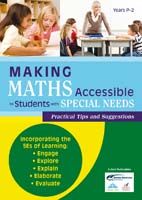 Increase your capacity to make mathematics accessible to all students, including those with special needs. Use the Five Es of learning (Engage, Explore, Explain, Elaborate and Evaluate), to help students with special needs in Year/Grade Levels P-2 understand mathematical concepts. This revised Australian resource actively involves readers through case studies, reflective questions and learning tasks, showing educators how to help students overcome problems such as organisational deficits and abstract reasoning difficulties. .Appendices offer sample answers and additional supports.
ISBN - 9781742394947
View your shopping basket or browse other items.
Other products you might be interested in