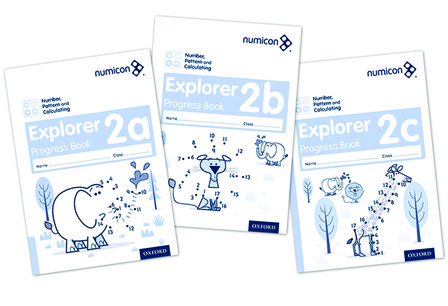 The Explorer Progress Books (30 of Set B) provide the concrete evidence of understanding and achievement following the activities in the Numicon NPC 2 and offers an opportunity for teachers to assess individual children and monitor progress. An excellent resource that children enjoy using and parents enjoy seeing at parent interviews.
Explorer Progress Books
There are four Explorer Progress Books for Numicon 2. Through answering the often open and explorative questions in the Explorer Progress Books, children demonstrate their understanding of the key learning for each activity group. Questions in the books encourage children to apply their learning to both a familiar situation and a new or different context. Being able to use mathematics in an unfamiliar situation is a significant indicator of understanding.
You can use the Explorer Progress Books immediately after the work on each activity group has been completed or shortly after, to see and capture whether children are secure in the key learning for that activity group.
You can structure conversations with children on their learning across various strands. You can use these alongside other evidence to inform your judgements on whether children have met the requirements of each milestone and as a tool to help children reflect on and talk about their own learning.