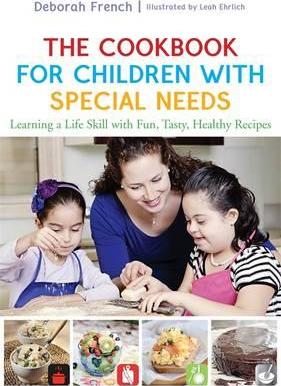 Learning to cook not only equips children with a valuable life skill, but will help boost self-esteem in other areas of their lives.

The book starts with a basic illustrated guide to where food comes from, the different food groups, how to create our own diet and why cooking is a great skill to master. Simple, step-by-step instructions
accompanied by fun illustrations, guide children through three levels of cooking, starting with fundamental basics including the preparation of a wide variety of different foods, and building up to more complex recipes. Health and safety skills are taught as an essential part of the cooking activity and healthy eating habits are reinforced throughout.

Parents and carers will find cooking with children with special needs to be enjoyable and rewarding with this book, which thoroughly prepares the child for the cooking experience. Teachers, activity organisers and anyone else working with children with special needs will also find this book to be a great resource for cooking inspiration.

ISBN 9781849055383
View your shopping basket or browse other items.
Other products you might be interested in