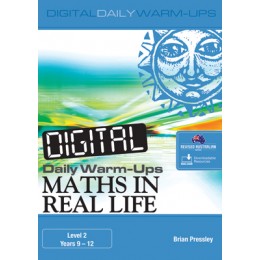 The maths activities within Digital Daily Warm-Ups: Maths in Real Life Level 2 – Years 9–12 allow students to apply problem-solving skills to situations that are relevant to their lives. The activities contextualise the maths learned at school into everyday experiences, with activities such as calculating the value of different combinations of coins; calculating hourly wage from a yearly salary; calculating BMI; determining the volume of a barrel of oil; and many more.

Daily Warm-Ups are easy-to-use activities. You may want to use them as a check on critical-thinking skills and problem-solving skills, or for gifted students who need extra independent work. However you choose to use them, Daily Warm-Ups are a convenient and useful supplement to your regular lesson plans. Make every minute of your class time count!
ISBN 9781742398303
View your shopping basket or browse other items.
Other products you might be interested in